COVID -19 PANDE

MIC
From 26 Apr 2022, Singapore has moved back to DORSCON YELLOW. Some of the safe-distancing measures have been removed. However, for your safety and to meet other MOH regulations, the following are required at each visit to our clinic:
BEFORE YOU ENTER OUR PREMISES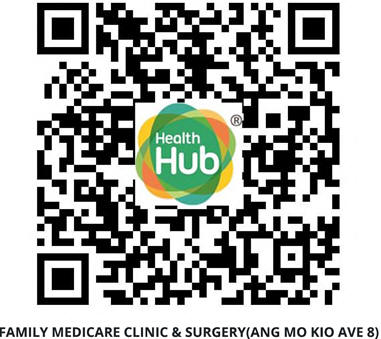 Scan and Declare (outside front-door)

Scan the QR Code outside the front-door using your phone's QR scanner (do not use TraceTogether or SingPass to scan - they are incompatible)
You may also scan the QR code on this page to do so before you come over.
Patients should select "See Doctor" and make the necessary Health Declaration
All others - declaration is NOT required
Please wait outside the front-door till called in.
The clinic is zoned into Green, Blue and Red. Restrictions of some movement and seating applies. Our staff will guide you.
Please be assured that we will take all precautions and measures to ensure your safety during your visit to our clinic. We apologise for the inconvenience caused by all the above measures and trust that you will understand that they are for everybody's good.
DUE TO PRECAUTIONS PUT IN PLACE. PLEASE EXPECT DELAYS.
SINCERE APOLOGIES FOR ANY SHORTCOMINGS
Our resources are occasionally stretched when an upswing in Covid-19 cases occurs and we may not perform as well as you rightfully expect us to. Kindly accept our sincere apologies when we fall short. We will review our processes periodically, guard our conduct as best as possible, and hope to do better in future. Please bear with us in the meantime.