Subsidised Vaccination
If you have a CHAS, Merdeka or Pioneer Generation card, you may be entitled to subsidised vaccination at our clinic.
On top of government subsidies, we have reduced or waived some of our fees (limited time only) to encourage our senior citizens to get protected.
Here are some examples: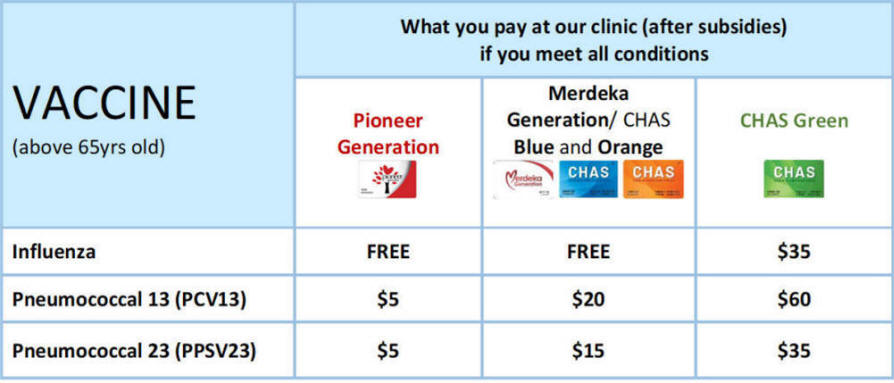 The above is a limited-time extra-subsidy for Senior Citizens above 65yrs old only and subject to change without notice.
Unsure if you qualify? Please check the HealthHub Website for more information on all matters concerning vaccination in Singapore.
Appointments are not required but it would be advisable to call us before coming over to ensure that we have stock of the vaccine you need.
From 15 August 2022, Ministry of Health will be inviting our seniors to book appointments for pneumococcal vaccination. You may book an appointment with us through the Health Appointment System (HAS) portal or just come directly to us to enjoy the extra subsidy.
We also offer Covid-19 vaccination (Pfizer-Comirnaty) for adults and children above 12yrs old as well as other Covid-19 related services. More information here.
Government-Paid/Subsidised Childhood Vaccination and Development Assessment are available on appointment basis. Kindly call us at Tel: 64566582 for an appointment. You may also email us if you have any queries.